April 24, 2014 ()
The Cost of Good Journalism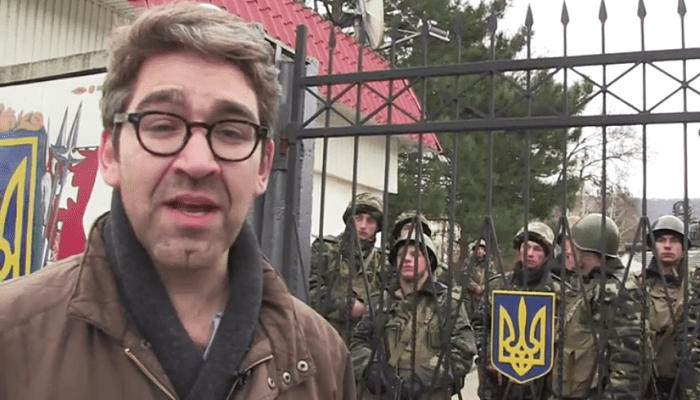 Less than two weeks ago I published a blog post praising VICE News for, among other things, having the biggest balls in media, for being unbiased, and for putting a human face on stories that would otherwise register as far off statistics.
VICE News is incredible at what it does, but unfortunately sometimes their unflinching commitment to delving deep into some of the most dangerous parts of the world has very serious repercussions.
I have to admit that even as someone who reads the news every day I was fairly lost trying to follow the situation unfolding in Crimea. That was, however, until I began following VICE's dispatches from Russia, apply titled "Russian Roulette." The series is comprised of 28 clips ranging from about four to 18 minutes each, hosted by VICE News reporter Simon Ostrovsky, who traveled across the country speaking with protestors, politicians, military personnel, and everyday people from both sides of the conflict.
The dispatches continued to prove how fearless VICE News reporters are in the face of danger. In each clip Ostrovsky takes the viewer by the hand and drags them into the madness unfolding in the region. In dispatch 2, when pro-Russian protestors barricade members of the Ukrainian army inside their own base with no weapons, Ostrovsky sneaks his way in to conduct an interview.
When pro-Russian protestors storm a police station in eastern Ukraine to beat an officer accused to killing one of their own in dispatch 26, using tear gas and smoke bombs, smashing windows and demanding blood, Ostrovsky is standing right next to them, even saying the words "this is not a genius move on my part."
And when Ostrovsky tries to cross a pro-Russian checkpoint in dispatch six, his media credentials are taken, he is shoved to the ground and dragged into a holding cell, though only temporarily. Ostrovsky speculated that he was only let go because he had an American passport.

Unfortunately, the next group of pro-Russian insurgents wasn't so forgiving. Two days ago Ostrovsky was captured, and is currently being held hostage in Sloviansk, Ukraine. His captors accuse him of being a spy, because he was "not reporting in a correct way." VICE News is currently working with the State Department to see to his safe release, but in the mean time I'm holding my breathe in hopes that Ostrovsky, who risked his life every day since the outbreak of the conflict to paint for us viewers an accurate picture of the situation, will be returned safely.
If you haven't yet watched any of the dispatches from Ukraine I would highly recommend that you do so, if for nothing else than just to get a sense of the danger Ostrovsky put himself in on a daily basis, and the absolutely phenomenal reporting that resulted from his efforts.
Ostrovsky is a hero to myself and journalists everywhere. In an age of bipartisan reporting, 24-hour news cycles jam-packed with fluff, and fewer means for audiences to get accurate information about major world conflicts, reporters like Ostrovsky stand as the last remaining line of defence for the sort of journalism the world needs now more than ever.
UPDATE: VICE News has just reported that Simon Ostrovsky has been released. No further details have been provided, besides the fact that he is in good health. If nothing else this situation should stand as a testament to the important  role of journalists like Ostrovsky in bringing viewers accurate information about the situation in Crimea and other dangerous parts of the world. After all, if he was captured by the Russians for not reporting the news how they wanted it to appear, he was probably doing something right (from a journalistic point of view at least).