April 10, 2014 ()
Why I love VICE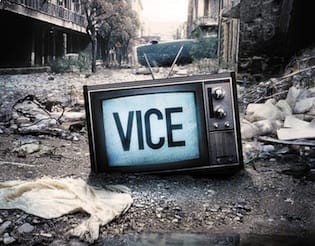 I love VICE.
What started out as a childish magazine produced by hipsters in Montreal has quickly evolved into what I would argue is one of, if not the most important journalistic institutions of my generation. A bold claim, I know, but put away your pitchforks because I intend to back it up.
But first let me just say that there's been a lot of chatter in this blog about Rolling Stone magazine, the first publication I ever fell in love with, and you never forget your first love, but in all fairness that magazine truly belongs to a different generation. While I'll always dream of one day seeing my byline in its pages there are a lot of other publications and media organizations that I have come to know and love on the side, and they will get their due respect, but I would be remiss if I didn't mention VICE first and foremost.
In case you're unfamiliar with this hipster media empire, let me break it down for you. What began as 3 dudes in a basement in Montreal in 1994 is now a website, magazine, publishing imprint, record label, HBO series, YouTube channel and much more. Last year media baron Rupert Murdoch bought a five per cent stake in the company for $70 million, making VICE worth a total value of $1.4 billion, giving them a slight $450 million edge over The New York Times.
But what makes this organization truly remarkable is not its sheer size and strength, but how it reports world issues, how it speaks to a young audience in a language they understand, how it dares to be fearless and bold and different. In an age that constantly witnesses media empires vanish into dust, one of the few solaces I can take is knowing that one of the most important journalistic institution of my generation is financially safe.
So why is VICE so awesome?
I think I can break it down into 5 main reasons, but given enough time I could probably come up with a few hundred more.
1)   They have the biggest balls in media. Being arrested, tear gassed, beaten, or even killed is a risk their journalists  take with pride. There aren't a lot of journalists today that would risk everything to expose the truth, and all of them seem to be working for VICE.
2)   They turn world conflicts from far off statistics to personal stories, and have a unique way of making even the most apathetic viewer care deeply about issues a world away, such as the one in crimea.

3)   They are actually unbiased. Seriously. They treat all sides of a conflict equally, even if that means interviewing vandals, terrorists, or suicide bombers.

4)   They can outdiplomat diplomats, like when they broke silence with North Korea by taking advantage of their leader's one weakness for American culture, the 90s era Chicago Bulls. Not only was VICE correspondent Ryan Duffy among the first Americans to ever shake hands with Kim Jong-un (right after Dennis Rodman) he even got drunk with the communist dictator, known for executing close friends and family members (see point 1).
5)   They know the world is a strange place. Not only do they accept it as a reality, they embrace it as an opportunity to expose the unique conditions of our time, like their tour of a Japanese Suicide Forest.